The Newsletter, Sheppard's Confidential, is free to all members of Sheppard's World who have email addresses. Its unique format provides a forum for those interested in rare books, maps and related ephemera to discuss points of interest but in the main is the premier source of information on a weekly basis for the book world.
Dates and venues for fairs and auctions are on a rolling three week calendar while the events page is available to all – libraries, museums, book shops etc. – who wish to advise Sheppard's Confidential of their forthcoming attraction.
The front page of the newsletter supplies a weekly basis of information regarding current aspects of the global rare and antiquarian book world. Facts and fresh ideas from all parties are always considered for publication and the editorial board especially welcome discussion points from members of Sheppard's World. Topics range from the intrinsic worth (or not) of the 'jiffy bag' to the more serious subjects of book theft and discussion on the various merits of search engines.
The Newsletter carries inexpensive advertising which is considered of interest to either dealers or collectors. Larger companies used to supplying copy are encouraged to do so but Sheppard's Confidential is set up to supply those unused to such things a free and friendly helping hand.
To receive Sheppard's Confidential, please click on Dealer's or Collector's Login, and create a new entry. Short sample of the first page is shown below - note that the links to Fairs, Auctions etc do not work. You have to sign up, which is free, to see these in the next live issue.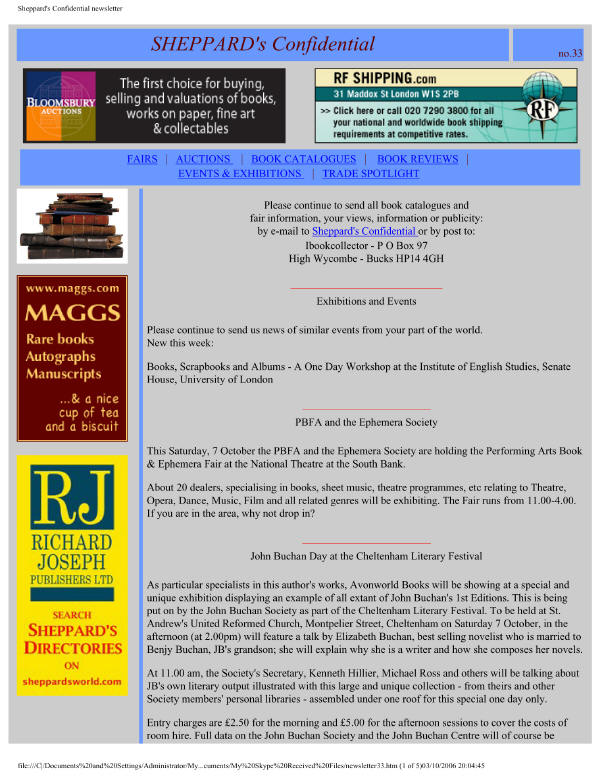 Last updated 3 October 2006